https://www.theguardian.com/music/2016/jun/17/daphne-oram-synthesizer-deep-minimalism
It's not often, if at all, that you find a festival focusing on women in electronic music without making gender the star attraction. While "all-female bills" have gained traction to address the stark gender imbalance in dance and electronic music bookings, they can feel tokenist, where gender comes before talent. But not so at London's Southbank Centre next weekend: its Deep Minimalism festival presents compositions by some of electronic music's early frontrunners, going as far back as the 1950s. They just so happen to be almost exclusively female.
Many of these composers get less time in the spotlight than their male counterparts, who dominate the so-called electronic music canon (the only one present here is John Cage). But they were just as responsible for shaping the future of the genre.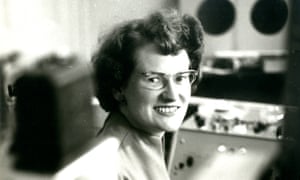 One such figurehead was Daphne Oram, who noodled with modular machines at the BBC Radiophonic Workshop in its early days, before the studio created the seminal Doctor Who theme. Still Point, her 1950 piece that combines pre-taped sounds played from 78 rpm discs with a live orchestra, will be performed for the first time ever on Friday by turntable manipulator Shiva Feshareki and the London Contemporary Orchestra.
Other pieces to appear at the festival come from Laurie Spiegel and Eliane Radigue, her sometime studio mate in the 1970s. The former programmed synths before computer-based controllers were a twinkle in a techno DJ's eye, and you'll be able to hear a collection of her works next Saturday. French composer Radigue, meanwhile, was an early convert to the ARP 2500 synth (the same one used to communicate with the aliens in the film Close Encounters Of The Third Kind). She also brought Buddhism into modular synthesis, creating a heavy, lush drone, as in her 11th-century-Tibet-inspired piece Jetsun Mila.
Notably, Pauline Oliveros is a constant presence throughout the three-dayer. In particular, she'll be holding a workshop on "deep listening", a mindfulness-style way of hearing music she developed in the 80s and a concept that's percolated through to the festival's name. This experience, of meditative music that slowly unfurls and allows time to think, is truly what Deep Minimalism is all about. No less significant however is the final performance of Dawn (for multiple singers) by experimental vocalist Meredith Monk, whose influence can be heard in contemporary artists from Holly Herndon to Laura Cannell. It's a fitting end to a festival that – in the way that it has tackled the gender issue – feels like an awakening.